Oregon
Being a novice Jazz listener, I can hardly place critic remarks on Oregon's place in the world of Jazz Music. However, the huge volume of work produced by the groups and by each of its members is shamelessly overlooked, and even over a huge resource like the Internet only few words are spared on the band and its music.

Oregon is essentially a Jazz quartet, only that the musicians and the music are not typically something you'd tag as 'Jazz'. Ralph Towner, Paul McCandles and Collin Walcott worked together in Paul Winter Consort's Icarus back in 1972, playing a major role in creating the album. The three were joined by Glen Moore to form Oregon. Their first album, Music of Another Present Era, was released in 1973, defining exactly what the band was out to produce in its 25 years of existence.

Ralph Towner is well known for his one-of-a-kind guitar playing. He wrote many of the band's compositions, and has also run a successful career in the ECM record label, releasing many solo albums as well as working with other musicians. He plays 12 string and classical guitars, piano, synths, organ, french horn, flugelhorn, cornet, trumpet, mellophone, musette and percussion.

Glen Moore has achieved his own personal sound, extending the upper and lower ranges of his bass. He plays bass, viola, violin, flute and piano.

Paul McCandles is well identified for his oboe, taking the role of the trumpet in a jazz quartet, though not quite the same. He plays oboe, english horn. saxophones, clarinet, tin and wooden flutes.

Collin Walcott is what you'd consider the bands "drummer". He has, however, mastered indian instruments and brought a whole different atmosphere to the band's music. He played percussion, sitar, tabla, clarinet, congas, dulcimer, guitar and piano.

Oregon started out on the Vanguard label, releasing several albums and a live one which I whole heartedly recommend, In Concert.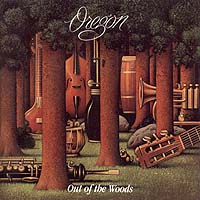 Out of the Woods
1978
This is in my opinion Oregon's best album. It is far less experimental than its predecessors, and more harmonic instead. The ethnic influences are easily noted, but in this album they are beautifully orchestrated into the whole. Even the jazzier tracks are relatively mild and one can easily track down the basic melody.

The album concludes with an beautiful version of Witchi-Tai-To (by Jim Pepper), in which the members provide some original solos.

Approx. Playing Time: 42:45

Out of the Woods was released under the Electra record label, as well as its follow up, Roots in the Sky in 1979. A double live album, In Performance released in 1980 captures the versatility of the members on stage.

Another interesting album is Moon and Mind from Vanguard in 1979. The album features 9 compositions, each of which was recorded by a combination of two of the band's members.

Moving to the ECM label in 1983 saw a notable change in Oregon's music, introducing a Prophet 5 synth into their orchestration, providing a more 'atmospheric' sound. Following the death of Collin Walcott in a car accident, Trilok Gurtu has brought in to take his role for their last album at ECM, entitled Ecotopia. I personally think it's their best at ECM.

Oregon continued releasing studio and live albums on other labels, eventually as a three piece.

Buying the CD:
The CDs can be ordered from GEMM, which will track down the cheapest offer from various retailers.

Web References:
A fine discography is available at the The Oregon Pages
ECM records has discographies for Oregon, Ralph Towner, Paul McCandles, Collin Walcott and Glen Moore.