Caravan
I started listening to Caravan following my appreciation to Camel. Many people mention both bands under the same breath, and after devoting so much time and effort to Camel, I had to see what the other band was like.

Caravan is a progressive rock band which is widely considered to be the core of the "Canterbury Music Scene." Please refer to the resources at the end of this page to learn more about the band.

The following is a list of my favourite Caravan albums.
In the Land of Grey and Pink
1971
This is Caravan's 3rd album. In my opinion it brings out Caravan at its very best. In the Land... is less experimental and less psychedelic than the band's first two albums, but it has more integrity and a better structure.

The album consists of a set of four short and snappy songs on its first side (or "first half", to use CD-age terms) and a long composition on the other. A banal formula for Progressive music of the early 70s? Well - yes, but it works.

Unlike Caravan's first two releases, Richard Sinclair's voice is more prominent on this album than Pye Hastings'. His warm baritone, snappy bass and typically cheesy (yet very amusing) lyrics make the album's first half a real treat, kicking off with the "hit song" Golf Girl. The second half includes the 23 minutes piece 9 Feet Underground, featuring David Sinclair's Hammond organ in full blast. The sentimental lyrics (in the sub-section disassociation) make it an emotional piece one could cling to as well.

David Hitchcock produced the album, resulting in excellent sound and integrity.

Approx. Playing Time: 43:28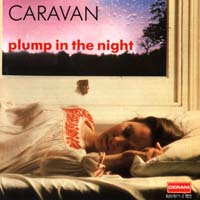 For Girls Who Grow Plump In The Night
1973
At this time Caravan had a rather unsteady lineup. Band members were coming and going. Geoffrey Richardson, a viola player, is introduced here, as well as Dave Sinclair's comeback (this time armed with synths). The album was mostly written by Pye Hastings, who was now the band's driving force.

Hastings has a few (typical) infantile, sexist songs... The original cover (so I've heard) was intended to show a pregnant naked woman. But the musicians and the production "make up" for Hastings' naughty intentions. :-)

I particularly like this album for it's grand finale - the pretty instrumental A Hunting We Shall Go, which wraps it all up into a delicate musical climax.

Approx. Playing Time: 44:41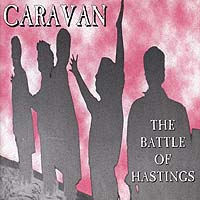 The Battle of Hastings
1995
I was surprised to enjoy this album so much. Although I have listened to most of Caravan's album since 1973, I was never deeply impressed by them. However, this album touched me.

Obviously, Caravan is no longer into writing 20 minutes pieces. Instead, the album features a set of 11 songs, and these songs really grow on you. Back in the late 70's, it sounded like Hastings was pasting lyrics to chord patterns without any leading melody line. On this album, however, Hastings' songwriting is at its best, and the songs are carefully laid down.

The album's lyrics are more serious than before. The song Liar reflects on Hastings's and Sinclair's experience with forming a "super band" called Mirage - in which they were deceived and cheated by an amateur opportunist. Other songs relate to personal battles or are merely honest love songs.

The musicians all do a very fine job; Jimmy Hastings plays excellent solos with various wind instruments. Dave Sinclair is back with a few organ solos of his own.

Although The Battle of Hastings is far from the 70's albums, (and despite the tasteless cover) I think it is one of Caravan's bests.

Approx. Playing Time: 52.21
All Over You
1996
It is actually funny to see this album worked out so well. Originally, All Over You was meant to be an "unplugged" compilation of old Caravan tunes. Somewhere along the line, 'techno' drum samples were added (which is rather amusing when your song is in 7/8) and some songs were given a "heavy metal" touch, along with studio effects of enthusiastic crowd.

A good sense of humour and some terrific solos from Jimmy Hastings, Dave Sinclair and Geoffrey Richardson salvage this album... Not to mention the fact that the whole "side B" from the If I Could Do It Over Again I'll Do It All Over You is featured here in it's "techno" rendition. Hastings sing on some songs that are well associated with Sinclair's voice, but succeeds in doing so despite the initial shock.

Just give this CD a few turns and you're bound to fall in love. Before you buy it, make sure you find the version with an extra track (the CD cover may be a different one!)

Approx. Playing Time: 48:12




Contact the Band:
For Caravan GB information service send Self Addressed Envelope/International Reply Coupon to: Apple Cottage, Henstead Road, Hethersett, Norfolk NR9 3JH, England UK.
For Caravan European information service send SAE/IRC to: Cocacamp, Tielstraat 112, 1107 RC Amsterdam, Holland.

Buying the CD:
The CDs can be ordered from The Artist Shop or from GEMM, which will track down the cheapest offer from various retailers.

Web References:
The Caravan Profile in Calyx - The Canterbury Website.
The Rough Guide to Rock features a fine history of the band.