AMEL celebrate their tenth anniversary this year.
The original members were Peter Bardens (keyboards), Andrew Latimer (guitar), Doug Ferguson (bass) and Andy Ward (drums). Bardens served apprenticeship with Them (Van Morrison's old outfit), Shotgun Express (which also included Rod Stewart and Peter Green) and Village. Latimer, Ferguson and Ward had been together since 1968, first in a band called Brew and later as back-up musician for Philip Goodhand-Tait.
After playing numerous clubs dates, Camel were signed to MCA who released their first album, Camel, in 1972. In 1973, they were signed to Decca's satellite production company, Gama Records, where they have recorded ever since.
In an extensive interview with radio journalist Mal Reding, Andrew Latimer recalls the group's history from the signing to Gama until the present day.
The band's first album for Decca, Mirage, received pretty good reviews in the rock press.
"They were good reviews, but nothing really dynamic," recalls Latimer, "There was no prejudice against the band or anything. It was just seen as a good solid album."
While Mirage sold reasonably well in the UK, it was far more successful in the US. "It was an album which took off heavily on the West Coast, for reasons I don't know," adds Latimer.
After Mirage, Camel, building on the success of the album, toured through the US for three months and enjoyed considerable success. On their return, Bardens and Latimer took themselves down to Devon to plan Camel's third album. The result of this sojourn in the West Country was the concept album, Snow Goose, inspired by the Paul Gallico novel of the same name.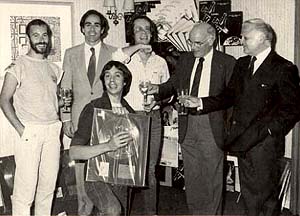 DECCA PRESENTED Camel with gold discs for sales of the Snow Goose album and a special award for total album sales in excess of 1.5 million at a party held in London recently. Pictured at the Celebration are (l to r); Keith Bennett - Decca UK, Ramon Lopez - Decca UK, Max Hole - Gama Records, Reinhard Klaassen - Decca Int Md, Marchel Stellman - Decca Int. Below; Andy Latimer - Camel member.