Official Camel Website!
www.camelproductions.com


The new official Camel website is here! At last you'll be able to verify the latest Camel news. Now you can get the most accurate, the most up-to-date, and the most complete information regarding upcoming tours, new releases, and other FAQ's. Remember, a rumour is just a rumour unless it's on the official Camel website.

CP aims to offer an 'official' site for Camel information with links to the already existing, superb webpages which offer a wealth of interesting bits and pieces that appeal to fans on a universal level including favourite albums and track lists, chat lists and amusing anecdotes. CP will concentrate on a format of confirmation and specifics. If you have a suggestion for what you would Iike to see on Camel's web site, drop us an email with subject marked "Web Suggestions". CP asks that you do not expect a reply. This is for the purposes of gaining a better understanding on how CP can create a site that will meet the needs of 'visitors'. Camel will not reply to emails specifically, so please do not be offended.

In addition, there will be a complete listing of products available from Camel Productions that you can order directly from the site. Despite opportunities for sophisticated privacy protection, CP will not take orders online. To maximise security, simply download the latest order form and FAX or post it to us.
New Camel Studio Album
Andrew Latimer is currently in the final stages of writing the next Camel album and plans to be finished with composing duties by the end of the year. Dave Stewart (drums and percussion) is scheduled to join Andrew and Colin Bass in the studio in January to begin recording.

This will be Camel's l3th studio recording and 24th release overall since the band's inception in 1972. Andrew is especially excited about the project... "This album will differ from previous Camel albums in that we're hoping to record the entire thing live in the studio", he says "something we haven't done since Ice (I Can See Your House From Here) ".

The title, track listing and complete musician listing along with the release date will be announced on the website. CP will also send a postcard to all on the mailing list. Camel is looking forward to a spring 1999 release!
Colin and Andrew outside 'Little Barn' studios in
late September '98 (photo: Paris Ford)
Colin Bass
Records Solo Project
Following Camel's tremendous success in Poland during the Harbour of Tears tour, Colin Bass returned to the eastern European country in early September of this year where he began recording a new solo album. The album, titled Outcast of the Islands, features Camel's drummer extraordinaire, Dave Stewart, along with musicians from Poland. Missing from the mix, however, was a virtuoso guitar player. So, with master tapes in hand, Colin travelled to America and had bandmate Andrew Latimer add his magical touch to the tracks at Camel's studio. "Working with Colin on his own project was highly enjoyable" says Andrew. "This is his first album under his own name so we were both excited to see what the outcome would be. I enjoyed experimenting with new guitar sounds, which he was really open to. Recording was full of silliness and rewarding experiences. Colin has given so much to Camel over the past 18 years and to me personally, so it was really wonderful to be able to contribute to his project".
A short break for some fresh air and a 'ham' session
of some Everly Brothers tunes (photo: Paris Ford)
A release date has not been set although Colin hopes to release the album early next year. Check our website for further information on Colin, where you will also find links to some interesting and amusing destinations.
An Endangered Species...?
The Nature of the Beast continues its successful run and the number of names on our mailing list continues to grow at an exponential rate. While we at Camel Productions couldn't be more thrilled, the financial strain in providing a free yearly newsletter to all is beginning to take hold. If you haven't already done so, we humbly request a one time donation of $10 (ten US dollars) to help offset the cost of printing, postage, and handling. This will help us continue our distribution of ...The Beast to everyone in the future.

The Tale of
Coming of
Age...
After overcoming the obstacles of live performance recording, CP faced the challenges of post-production (the transforming of tape into a finished product for sale). Technical problems, a generic term for 'how did that happen?', prevailed during the encores resulting in the regrettable omission of Lady Fantasy and Never Let Go from the recordings. Low lighting prevented the inclusion of other numbers on the video that did appear on the CD. Amidst much angst, Coming of Age took shape. "This could never have been accomplished without the fierce dedication of video producer Dave Minasian" Susan Hoover explained to Paris Ford. "What seemed so simple became so complicated but Dave and co-producer Alan Schulze refused to let the problems get them down. Their positive energy pushed the project forward in spite of our budget restraints and they got the job done. The end result is a work of art thanks to Dave and Alan".
CP continues to receive letters saying this was one of Camel's finest live recordings. Fans unable to attend were thrilled to see Camel live on video. Those who made it to a show said the CD and video brought back memories of the night, vividly recapturing the magic of Camel. These letters adorn the walls of CP's office. We couldn't be more pleased. We would especially like to thank the fans who attended the Billboard performance in Hollywood as well as those of you who were interviewed outside the Coach House who appear in the 'intermission' of the video. Alas the names of these candid performers have escaped our records so if you know who these stars are, please let us know. For now, our thanks for bringing this project to life.
CP has introduced a new t-shirt for Coming of Age. Designed by Cavalier Lisle, the very same team who designed the excellent CD and video artwork, the t-shirt celebrates the Hale-Bopp comet as it blazes across your chest in all its glory on a dark blue shirt. .
Less encouraging to CP was the strength of the US dollar. Many economies outside the United States were hit hard this year and some fans were unable to purchase copies of Coming of Age and other Camel merchandise. To help offset the situation, CP will be offering a 10% discount to all of its newsletter readers on all merchandise orders for Xmas'98 . For orders postmarked by December 15, 1998 , deduct 10% of the TOTAL of the order. Don't forget to include your shipping rate and then deduct the 10% discount. This offer lasts until l5th December 1998, after which no discount will be applicable.
As always, CP will be closed from l5th December through l5th January 1999 so do get your orders in quickly!
Say Goodbye
to...
CP will be discontinuing its Camel On the Road 1982 CD to make stock room for Camel's new album. If you're interested in getting a copy of this celebrated performance from The Single Factor tour, this is your last chance. This recording includes performances by musicians Andrew Latimer, Kit Watkins, David Paton, Chris Rainbow, Andy Dalby and Stuart Tosh. A time of transition for Camel, the outstanding quality of musicianship and comraderie on this tour surprised and delighted fans. If, for any reason, you've passed up the chance to own this CD, delay no longer. Supplies are limited to those on hand, so it's first come first served and will be available only as long as supplies last.

Unfortunately, Total Pressure and Pressure Points videos are currently unavailable and will not be available in the forseeable future. Should this change, CP will announce it on Camel's website and also in the next newsletter.

A more positive decision has been taken concerning the little 1992 tour pictorial program offered on our merchandise form. If ordered by itself, the price will remain at $5 to cover shipping and handling. If ordered with other merchandise, CP will throw it in for free.
On a Personal Note...
It's incredible to think 18 months have passed since the tour. The opportunity to meet many of you after a show was as enjoyable as the show itself. We put a face to many of the names we have come to know. The letters I've received since are full of encouragement and inspiration and I send a special thanks to each of you who have taken the time to write. I trust you will forgive my lack of reply. I think I'm best at expressing myself through my guitar and it is your support that makes me want to be a better player. In fact, none of what we do at CP would be possible without this foundation. And, last but certainly not least, my thanks to Susan Hoover for keeping this Beast alive and kicking.

In closing, we will again light an hour candle on 3lst December to wish you all good health, happiness and peace always.

Andrew Latimer Mtn. View, Ca.

From the Archives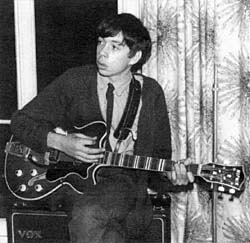 Andrew at 17 with his beloved Vox AC30 amplifier.
(photo by Stan Latimer)
---
Newsletter written by David Scott & Paris Ford
Edited by Salanarah Cook
Image scans by Cavalier Lisle Art & Design